---
Shareholder Disputes
---
AITKEN WHYTE LAWYERS BRISBANE
CIVIL LITIGATION & DISPUTE RESOLUTION LAWYERS FOR BRISBANE, THE GOLD COAST, & THE SUNSHINE COAST, QLD
Disputes Between Shareholders and Shareholders and Directors
Disputes among company shareholders, and between shareholders and company leadership, are not uncommon.
If left unresolved, such disputes can impede the company's operations and success. They may also threaten the rights of individual shareholders or groups of shareholders.
Our lawyers have experience helping clients navigate shareholder disputes and achieve favourable outcomes. We can assist in effectively and efficiently resolving disputes where:
there has been a breach of a director's duty;
a shareholder has experienced oppression by other shareholders or the company's directors; or
there is disagreement about shareholder rights or other matters.
In this article, we discuss:
Governing Documents
An effective corporate governance structure can significantly alleviate difficulties in navigating shareholder disputes.
Two legal documents provide the foundation for the corporate governance of a company. These are the shareholder agreement and the company constitution.
What Is a Shareholder Agreement?
A shareholder agreement is a legally binding contract amongst shareholders of a company. A shareholder agreement generally outlines:
the relationship between shareholders of the company;
the management and operation of the business;
the rights of shareholders; and
how shareholders can exit the company.
If you are starting a company, a shareholder agreement can save you time and money in the event of a future dispute. Even if there are only two shareholders in the company, it is worth drafting an agreement from the outset.
Our commercial lawyers can assist you to draft a shareholders' agreement. This can cover future eventualities and protect you and the company in the event of a dispute.
What Is a Company Constitution?
A company constitution governs the internal management of a company. It states the rights and duties that govern the relationship between:
a company's directors; and
its shareholders.
It will generally include:
the means in which directors are to be appointed and removed;
how Directors' Meetings are to be governed; and
the process in which the constitution will be amended.
In some cases, a company may not have a constitution to govern its internal management. In these cases, the replaceable rules outlined in the Corporations Act 2001 (Cth) ("the Act") step in.
Alternatively, internal management can be governed by a combination of both:
a company constitution; and
the replaceable rules.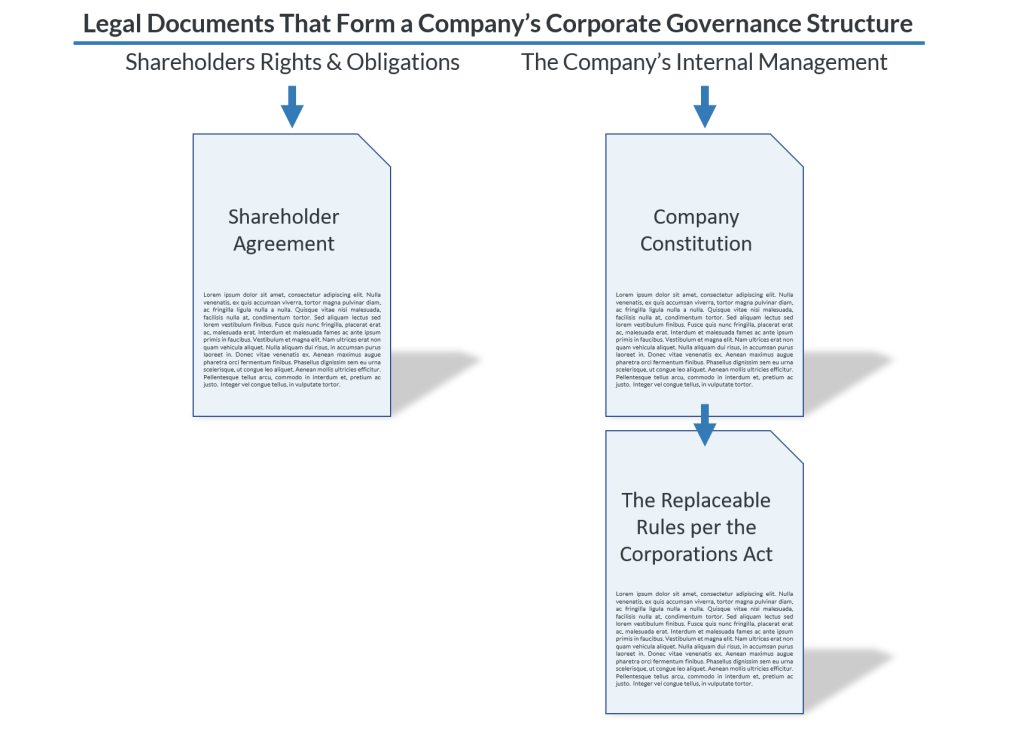 Ceasing To Be a Shareholder Or Forcing Another Shareholder to Sell
A shareholder may want to cease their shareholding in a company for a variety of reasons. A well-drafted shareholder agreement will generally outline:
the necessary processes to be taken for a shareholder to sell their share in the company;
the circumstances in which a shareholder can sell shares; and
to which parties the shares can be sold.
Where there is a dispute, a party may be of the view that another party should sell their shares and exit the company.
In this situation, the best outcome is often one the parties are able to negotiate on amicable terms. A mediator may be able to assist parties to negotiate. Aitken Whyte Lawyers are experienced in dispute resolution and can represent you:
at mediation; or
in negotiations.
What if due to disagreement, however, negotiations fail? In this event, a party cannot force another to sell their shares simply due to conflict without a provision in:
the company's shareholder agreement; or
the company constitution.
In the absence of a constitution or shareholders agreement, litigation may be necessary. Where parties cannot negotiate terms, Court intervention might lead to a resolution.
Our commercial litigation lawyers have experience acting for shareholders of companies. We can assist you to apply for the necessary orders to get the outcome you desire.
Court Orders Concerning a Company
It is common for shareholder disputes to be taken to Court.
Section 233 of the Act gives a Court a wide range of powers to make orders relating to a company that it considers just. Some orders a Court can make under section 233 of the Act include:
orders that the company be wound up;
orders regulating the conduct of the company's affairs in the future; and
orders requiring a person to do a specific act.
Section 232 of the Act sets out what must be established for a Court order to be made under section 233. The Court will make an order in circumstances where:
"(a) the conduct of a company's affairs; or

(b) an actual or proposed act or omission by or on behalf of a company; or

(c) a resolution, or a proposed resolution, of members or a class of members of a company;

is either:

(d) contrary to the interests of the members as a whole; or

(e) oppressive to, unfairly prejudicial to, or unfairly discriminatory against, a member or members whether in that capacity or in any other capacity."

Corporations Act 2001 – Section 232
Oppressive Conduct
In the event of a dispute, a shareholder may apply to the Court to intervene. This is often on the grounds that they have experienced oppressive conduct by:
another shareholder;
a group of shareholders; or
a company director or directors.
The Act does not define oppressive conduct for the purposes of section 232.
French CJ in Campbell v Backoffice Investments Pty Ltd [2009] HCA 25 noted, about sections 232 and 233 of the Act:
"Their language and history indicate that [they] are to be read broadly".

Campbell v Backoffice Investments Pty Ltd [2009] HCA 25 (29 July 2009)
Certain conduct, however, will generally be held by the Courts to be oppressive, such as a misuse of power. Often it is a minority of shareholders that are oppressed. This may be due to a misuse of power by majority shareholders.
Oppression has been interpreted by the courts to include conduct which:
"lacks the degree of probity which the members are entitled to expect in the conduct of the company's affairs"

Re Jermyn Street Turkish Baths Ltd [1971] 1 WLR 1042
For conduct to be deemed oppressive, one must ask:
"whether objectively in the eyes of a commercial bystander, there has been unfairness"

Mackay Sugar Ltd v Wilmar Sugar Australia Ltd [2016] FCAFC
For the Court to intervene, there must be proof of oppression or proof of unfairness. Mere prejudice to or discrimination against a member without unfairness will be insufficient (see Mackay Sugar Ltd v Wilmar Sugar [2016] FCAFC 133).
Examples of oppressive and unfairly prejudicial conduct include:
Where a shareholder is also a director, such conduct also may amount to a breach of a director's duty.
Our commercial litigation lawyers have experience:
bringing Court applications on behalf of shareholders; and
proving that conduct has been oppressive.
In some cases, applying to Court itself can be the step that is needed to reopen negotiations.
Breach Of a Director's Duty
Directors of a corporation owe various duties to their corporation under Part 2D.1 the Act. These duties are in addition to fiduciary duties that directors owe at general law.
By way of the Act, directors owe duties to:
act with due care and diligence in exercising their powers;
act in good faith in the best interests of the corporation and for a proper purpose;
not improperly use their position to gain an advantage for themselves (or another); and
not improperly use their position to cause detriment to the corporation.
Winding Up
Where there is a dispute, the most aggressive step a shareholder can take is to apply to wind up the company on:
just and equitable grounds; or
grounds of oppression.
If a company is "wound up" it will be concluded and cease to exist after its affairs have been finalised.
A Court can order a corporation to be wound up by way of an order under section 233 of the Act. Some circumstances in which a Court may order a company to be wound up include:
where the company does not commence business within one year from its incorporation;
where the company suspends its business for a whole year;
where the directors have acted in their own interests rather than in the interests of the members as a whole; or
on grounds that are just and equitable.
It is well-established, however, that the winding up of a solvent company:
"is an extreme step, and one which must require a strong case"

Cumberland Holdings Ltd v Washington H Soul Pattinson & Company Ltd (1977) 13 ALR 561
Voluntary Administration
Members of a company may resolve to voluntarily wind up the company by way of a special resolution.
Voluntary administration is a formal restructuring process. This process is outlined in Part 5.3A of the Act.
Directors of a company may place the company into administration in circumstances where:
the company is insolvent or
the company is likely to become insolvent.
Focused On Results
Proper experience in dealing with company and shareholder disputes is essential.
Aitken Whyte Lawyers Brisbane are focused on results.
We have experience acting for shareholders and company directors to resolve disputes.
Our Brisbane commercial litigation lawyers will advise you on the proper course to take if:
you are a shareholder of a company; and
your rights are being infringed upon.
If you are in a dispute or anticipate that a dispute may arise, contact us for legal advice.
We can assist with all commercial disputes.
Call Aitken Whyte Lawyers for solutions and results, for expert and experienced advice to represent you at this important time or, if you want to learn more about our services in Queensland. For Brisbane and surrounding areas including Ipswich, Redlands, Logan, Redcliffe and Caboolture call
07 3229 4459
or
email us
.
Office Location and Contact Details
Brisbane
Aitken Whyte Lawyers Brisbane
2/414 Upper Roma Street
Brisbane QLD 4000
Ph: 07 3229 4459
Fax: +617 3211 9311
E:
enquiries@awbrisbanelawyers.com.au